Staying on Course
Experience Open
Open to delighting customers
Aligned to emerging trends in the banking and financial services sector, we are implementing best‑in‑class digital interventions to enrich customer experience.

GETTING THINGS FIRST TIME RIGHT
We have inculcated 'first time right' approach by building system‑based validations, which ensure that appropriate balances/ checks are conducted in real time to avoid rejections.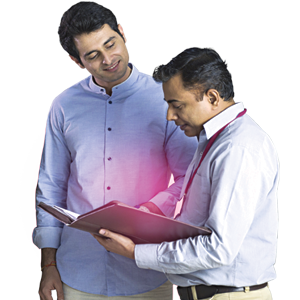 BRINGING LARGE‑SCALE DIFFERENTIATION
Best‑in‑class bots for first level self‑service interactions and voice bots for interactive voice response (IVR) eliminating wait time
Enhanced use of machine learning/analytics to ensure auto‑tagging of interactions
Enriching service landscape by using natural extension of customer habits like Whatsapp Bot and Facebook/Instagram Chat Bots; also have email Bot for servicing and banking
Real‑time Speech Analytics for phone banking, helping us identify potentially damaging conversation between the agent and the customer
Introduced instant debit or credit card printing facility and platform for pre‑booking appointment to visit branch or for doorstep services

Smarter Process
We leverage big data and artificial intelligence (AI) for instant account opening. AI helps scrutinise the uploaded KYC documents and detects inaccuracies.

ENSURING CONSISTENT EXPERIENCE ACROSS CHANNELS
Implemented 'Straight Through Process' at front‑end teams, eliminating multiple hand‑offs by automating certain operations
Created unified front‑end 'Saksham' for a 360‑degree customer view; it acts as a single unified frontend, which connects with peripheral systems
Introduced 'Single Sign‑on' to avoid repeat authentication across applications
Introduced content management tool to ensure SOPs/guidelines are readily available to front end for better efficiency
24x7 digital access, backed by digital experience centre and audio‑video interface