One Axis
Asset Management
75%

One of the fastest growing MF player
Invest Banking & Inst Equities
100%

Leadership position in ECM deals segment
Consumer Focused NBFC
100%

AAA rated NBFC with diversified product offerings
Retail Brokerage
100%

3rd largest Bank led brokerage firm
Trustee
100%

Amongst the leading trustees in India
---
Fintech Platform
100%

One of the major fintech players in India
TReDS Platform
67%

Leading player on TReDS platform
Insurance
12.99%

4th largest private insurance company (Co-promoter)
Retirement Solution
47.27%

5th rank in terms of subscriber addition since inception
The aforementioned numbers represent the stake in respective group entities

Axis Finance Ltd
Through Axis Finance, our AAA rated diversified NBFC arm, we provide wholesale and retail lending solutions to corporate and retail customers across geographies and businesses. Axis Finance is one of India's most rapidly growing NBFCs, with a 43% CAGR in AUMs (Assets Under Management) from fiscal 2020 to fiscal 2023. This can be attributed to our strong operational and risk management practices, supported by the dependable technology infrastructure and has consistently achieved exceptional operating metrics and returns.
Axis Finance has been investing in building a strong customer-focused franchise. The focus of our wholesale business continues to be wellrated companies and cash flowbacked transactions.
Key initiatives in fiscal 2023
Re-branded our wholesale and emerging market business into corporate banking vertical
Achieved automation across all key areas reducing TAT significantly
19 new centres in last two years for long-term sustainability of corporate loan book
Performance in fiscal 2023
67
%
Growth in Retail
loan book y-o-y
19
%
Growth in Wholesale
loan book y-o-y
30
%
Growth in PAT to
₹475 crores y-o-y

Axis Capital Ltd
Axis Capital is one of India's leading financial experts, providing customised solutions in investment banking and institutional equities. Using technology and our relationship-building power, we are committed to establishing a world-class franchise. Axis Capital has received consistent recognition as one of India's best investment banks over the last two decades.
Axis Capital completed 18 ECM transactions in fiscal 2023, including 11 IPOs, 2 QIPs, 2 OFS and 1 Rights Issue. Marquee transactions included Biggest ever IPO in Indian capital markets, M&A transaction involving two of the biggest financial institutions in India, among others.
Key initiatives in fiscal 2023
Strengthened investment banking coverage to include Specialty Chemicals, REIT and InvITs
Closed 42 IB transactions
Maintained market leadership in Equity Capital Market with a 12% market share
Commercial launch of Structured Credit AIF. The targeted fund size is

`

2,000 crores (including

`

1,000 crores of Green Shoe Option)
Performance in fiscal 2023
1st
Rank in Equity Capital Market (ECM)*
12
%
Investment banking market share
17
%
Growth in Equity business trading (revenue) in F&O segment
`142
crores
PAT in fiscal 2023
*Source: Prime database; includes IPO, FPO, QIP, REIT, OFS and rights

Axis Asset Management Company Ltd
Axis AMC provides risk managed investment solutions to both retail and institutional investors across listed/unlisted equity, debt and real estate. We have a robust long-term performance track record, and we strive to emerge as the mostadmired asset manager. Through One Axis, the AMC's partners have collaborated with the Bank to offer products like fixed deposits and credit cards.
Key initiatives in fiscal 2023
Strengthened its offering in alternative asset space by launching first of its kind commercial real estate fund in collaboration with Tishman Speyer
Future Ready with strong digital assets including B2C app and website and 24*7 AI/ML based NLP chatbot to provide anytime service and engagement to customers
Expanded geographical reach with 18% of its AAUMs from B30 locations
Performance in fiscal 2023
12.9
million
Client folios
16
%
Growth in PAT to ₹415 crores y-o-y
63
%
of overall AUM consists of Equity & Hybrid funds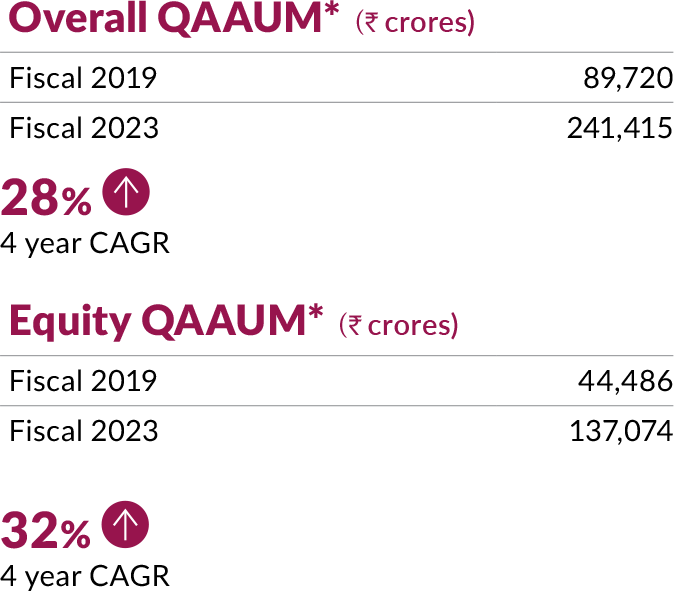 *Quarterly Average Assets Under Management
**Average Assets Under Management

Axis Securities Ltd
Axis Securities is a full-service retail brokerage focused on building an advisory model to acquire customers. We have deployed robust technology infrastructure and digital capabilities to deliver holistic solutions to our customers by leveraging One Axis environment. Investing consistently in product and service enhancements for an optimal customer experience is a top priority for us.
Key initiatives in fiscal 2023
Increase penetration among Burgundy and Burgundy Private customers for better Average Revenue Per Users (ARPUs) and profitability
Exclusive products for premium customers to provide whole bouquet of investment products
Developed multiple innovative product offerings across equities, commodities and advisory to scale up growth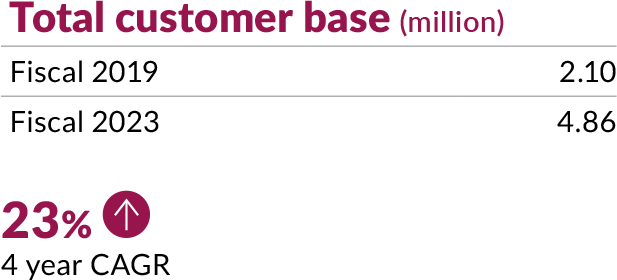 Performance in fiscal 2023
28
%
Growth in customer acquisitions y-o-y
51
%
Clients traded through Axis Direct mobile app
59
%
Share of mobile trading in total volume
`203
crores
PAT for fiscal 2023

Freecharge Payment Technologies Private Ltd
Freecharge has launched multiple new-age products targeted towards digitally native customers and merchants. It continues to evolve into a complete digital financial services platform, covering all verticals including savings, lending, investments, payments and insurance.
Key initiatives in fiscal 2023
Quadrupled the volume of cobranded credit card along with growth in transaction value
Launched unsecured personal loans of upto

`

60,000 to its customers in partnership with Axis Bank
Freecharge launched a new age Payment aggregator, SPG, the next generation to its current checkout platform
Performance in fiscal 2023
2.5
X
Growth in overall gross merchandising value
4
X
Growth in no. of cards issued
2.7
X
Growth in number of merchant transactions

A.TReDS Ltd
Invoicemart, India's largest Trade Receivables Discounting System (TReDS) platform, is set up to resolve the credit challenges faced by MSMEs. TReDS is an electronic platform that allows a transparent and online trading of receivables. It is a digital marketplace which connects Buyers (CPSEs, State PSUs, Corporates) and MSMEs to an active pool of financiers, by way of a bidding process, thereby unlocking working capital for Buyers and their MSME suppliers, in a transparent and efficient manner.
Since its launch, the platform has scaled exponentially with the registration of more than 19,300+ MSME sellers, 1,300+ buyers and 56 financiers which is highest on any TReDS platform.
Progress so far (Jul-17 to Mar-23)
~`55,600
crores
Throughput
~`16.3
lakhs
Invoices discounted
~20,671
Participants on-board

Axis Trustee Services Ltd
Axis Trustee Services is registered with SEBI and has been successfully handling various trusteeship activities, including debenture trustee, security trustee, security agent, lenders' agent, trustee for securitisation and escrow agent, among others.

Max Life Insurance
Axis Group has a 12.99% share in Max Life Insurance, the fourth largest private insurance company.

Axis Pension Fund Management (PFM) Ltd
Axis PFM commenced its operations effective October 21, 2022, to manage pension funds for investors across all retirement product categories and provide the best retirement solutions to customers. Since then, it has steadily gained total number of subscribers as well as total 'AUM'. Despite being the last among three new entrants, PFM has shown remarkable performance for NPS (National Pension Scheme).
What's New?
Capitalising on the One Axis approach, Axis Bank became the fastest private Pension Fund to cross ₹100 crores of AUM after being incorporated in fiscal 2023.