Citibank India Consumer Business Acquisition
Consolidating Our
Premium Franchise
With the acquisition of the Citibank India Consumer Business, we have gained access to a large, affluent, and profitable customer franchise, which aligns well with our premiumisation strategy. The acquisition is a healthy and strategic fit in line with our GPS strategy, powering us to build one of India's most premium franchises.
Synergies Through Acquisition
We recently completed our acquisition of Citibank India's Consumer Business at an estimated total purchase consideration of ₹11,949 crores. The deal is expected to be EPS and ROE accretive at the end of calendar year 2024 with significant potential for revenue and cost synergies through cross-selling, upselling, and global shared services.
The acquisition is aligned to our GPS strategy and our focus on premium segment growth. It has granted us access to 2.4 million large, affluent, and profitable Citi customers, ~3,200 Citibank employees with deep domain expertise and best-inclass client servicing and operations through Citi Phone Banking.
Impact of Acquisition
55
%
Increase in credit card advances

We will focus on franchise consolidation, value enhancement for the combined customer base, and transfer of best practices. We have a clear plan across 60+ synergy levers identified.
Amitabh Chaudhry
MD & CEO

Citibank India's Consumer Business Acquisition Aligns with Our Premiumisation Strategy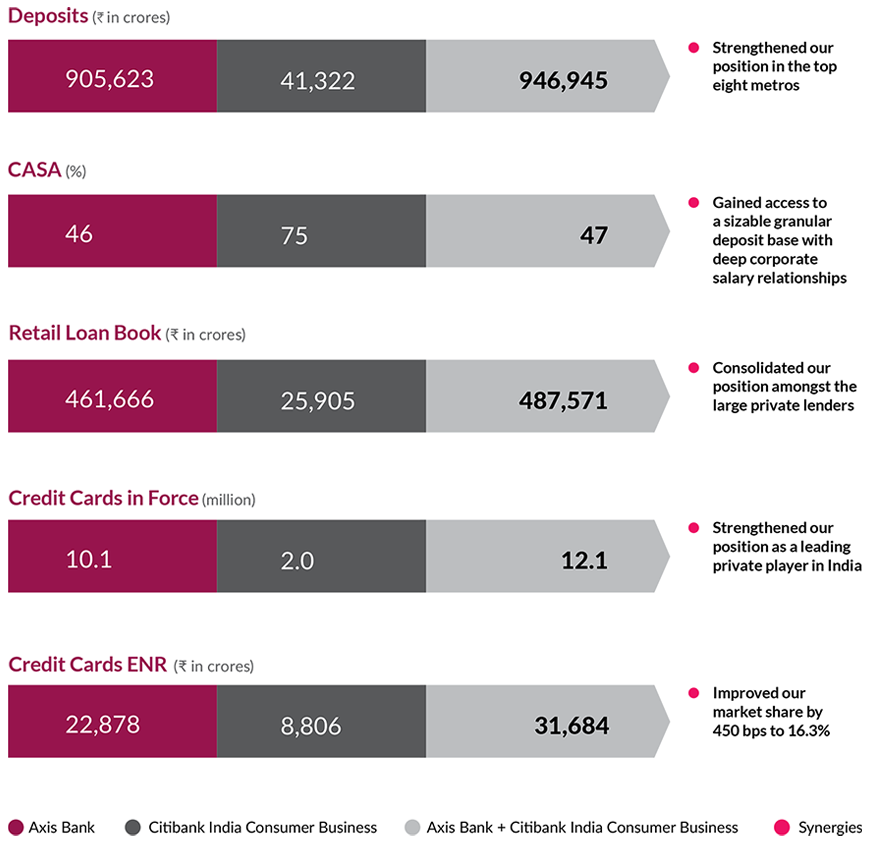 Above are standalone figures as on/for year ended March 31, 2023 unless otherwise mentioned