HOW TO TURN YOUR BAND INTO YOUR WALLET
1.

What is Axis Active?

Axis Active comes with a fitness band that is the faster way to make payments under 2000 at all participating stores. Instead of swiping your card at the billing counter, tap your band on the contactless terminal & pay without entering a PIN.
2.

How does Axis Active work?

The band contains a chip & an antenna (based on radio frequency). When you tap it against a contactless-enabled terminal, the details get transferred wirelessly from the band to the terminal & the payments get processed in a secure manner.
3.

What are the different parts of the band?

There are two major components of the band: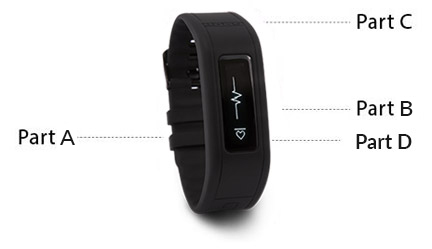 A

The Pedometer/Activity Tracker
records the number of steps
you have walked

B

The NFC/contactless chip
makes contactless payments
at all NFC terminals.

C

Band (To hold the pedometer
and NFC Chip)
4.

Once I receive my band, how do I activate Axis Active so that I can make contactless payments?

To activate Axis Active, follow the steps below:
Step 1: Find the barcode in the Axis Active box.
Step 2: Tap on the camera icon in the Axis Active section of the Axis Mobile app.
Step 3: Select 'Take Photo or Video', place the barcode below the camera, focus and then click. If it is blurred, take the image again.
Step 4: Tap on 'Use image' and the barcode will be decoded.
Step 5: Check if the number populated matches the number printed in the barcode or manually enter the barcode number.
Step 6: Tap 'Proceed' to continue.
5.

Is Axis Active safe & secure?

Yes, contactless technology uses secure encryption (the same as CHIP & PIN) so you can use it without a worry. With the maximum contactless transaction value capped at 2000, there is limited possibility of any loss. Just ensure you report the loss to Axis Bank immediately.
6.

How do I use Axis Active to make contactless payments?
Spot the symbol on the
payment machine.

Tap your band
on the machine screen.

Don't forget to collect
your receipt!
7.

What if the amount is more than 2000? Will I be able to use Axis Active?

No, you will not be able to use your band to that contactless payment. However, if the amount is above 2000 then use a regular Axis Bank Credit or Debit Card by dipping or swiping it in the machine & entering your PIN.
8.

What if I buy something online which costs less than 2000?

Contactless features work only at a shop/merchant location where there is an NFC-enabled POS machine. It wouldn't work for an online transaction.
9.

Is this 2000 limit worldwide or only in India?

The 2000 limit per transaction is only in India. Each country that has contactless bands has different rules & it also depends on the terminal that would be used at that time, in that country.
10.

Is there a daily limit on the amount of purchases I can make using the contactless band?

Yes, there is a daily limit of 5 contactless transactions on this band. This means that only 5 transactions below 2000 will be permitted without a PIN, post which you will not be able to transact on that same day.
11.

Can I use the chip or the magnetic strip on my band to make payments?

No, Axis Active has to be used for contactless payments. These payments are not enabled with the chip or the magnetic strip.
12.

How do I disable/turn off the contactless option?

Contactless is a permanent feature of your band. You can temporarily disable the band from making contactless payments, using the Axis Active section in your Axis Mobile app. Click on 'Unlink the band' & you can temporarily disable the band from making contactless payments.
13.

Will I get a receipt for all my contactless transactions?

Please let the shopkeeper know that you need a receipt. However, the receipt is not directly available in some circumstances, like while paying for travel or at a vending machine. All contactless purchases are recorded on your statement and you will get to see them on your Axis Bank internet banking account & Axis Mobile app as well.
14.

How far from the contactless machine should I hold the band?

Contactless bands & machines do not work beyond a distance of 4 cms. It is preferable to tap your band on the POS terminal to make a transaction.
15.

What if the contactless functionality does not work?

It needs to be activated before the contactless functionality will work. You will have to follow the activation procedure for it to start functioning. There may be a slim chance that the contactless functionality does not work after that.
16.

What if I lose my band? How do I report it to Axis Bank & block my band?

You can block your band & ask for a replacement by calling the call centre on 1800-209-5577/1800-103-5577 or through your Axis Mobile app. We request you to please do this immediately if you lose your band.
17.

I would like to know more about the reward points I can earn through Axis Active.
You can earn 500 Axis eDGE reward points in a week (subject to timely change) based on 70,000 steps you clock in with Axis Active.
You can also earn eDGE reward points for contactless payments made using the POS terminal.
18.

If I'm facing issues with my band, how do I replace it?

The band has two components, the contactless chip or the Pedometer. If you are facing any issue with the Pedometer, then kindly connect with the GOQii customer service help-desk at 18003130390. If you have any issue pertaining to the contactless chip, login to your Axis Mobile app, navigate to 'Axis Active' in the menu and then tap on 'Help'. Once done, tap on the 'Replace Now' option. Check out all the 'Issues' listed and select the one that you are facing. Proceed to 'Replace your contactless chip' or contact our customer support team.
19.

How do I avail my Axis eDGE reward points for the steps I walk?

Once you have synced your band, wear it for your daily activities. Track your progress once daily or once in 3 days with the Axis Mobile app. You will automatically avail reward points if you fulfil the weekly target of 70,000 steps, starting from Monday and ending on Sunday.
20.

When can I redeem the Axis eDGE reward points that I have earned?

The reward points will be credited for redemption within 5 days of completion of the current week, that is starting from Monday and ending on Sunday.