In Store Payment Acceptance Solutions
Axis Bank's Payment Acceptance Solutions offer the best-in-class payment products to help your business expand and reach newer heights. The Payment Acceptance Solutions offered by Axis Bank include Point of Sale (PoS) Terminals, QR based acceptance as well as online payment options. The features of the payment acceptance solutions include universal compliance with up-to-date security features, acceptance of all domestic & international debit, credit and pre-paid cards, prompt payment settlements, on-site support and round-the-clock help desk, dynamic currency conversion facility as well as access to payment reports for ease of reconciliation. Find out more about the features of the payment acceptance solutions below.
Key Features:
Compliant with latest Card transaction security features
Accepts Visa, MasterCard, American Express, Maestro, RuPay, Discover and Diners Club Cards
Enabled for acceptance of all Domestic & International Debit, Credit and Pre-Paid Cards
Prompt payment settlement
On-site support and round-the-clock helpdesk
Dynamic Currency Conversion facility for international customers
Reduced risk of theft and pilferage with lower cash management costs
Access to payment reports for ease of reconciliation
Fulfillment of credit needs with customized lending products
Customised reports at periodic intervals
Products
Introduction :
Introducing Instant Swipe Machine, first in the industry, a compact and easy to use machine that allows merchant to install and use the machine in just 30 minutes. To get this swipe machine, a merchant have to complete paper less on-boarding process using a mobile application "Instant Swipe Machine", available on Google Play Store. This is a quick on-boarding process where in the merchant has to fill all the required information on the App, upload KYC documents and start using the Instant Swipe Machine.
Features:
Accepts all debit/credit cards accepted
Accepts payment in 3 ways – Tap, Dip & Swipe
Enabled on Wifi and GPRS
Auto-settlement option available
To request for a machine, give a missed call on 7036081081 and our agents will get in touch with you soon.
Terms & Conditions:
30 minutes installation is subject to all documents submitted at the time of installation. Valid documents accepted are PAN Card, GST Certificate etc. Required documents subject to organization constitution.
Available in limited cities only.
All the other general terms and conditions of the bank will be applicable, wherever necessary
Product/services offered shall be subject to applicable laws & regulatory guidelines including applicable product policies/guidelines.
PoS Solutions (PSTN/GPRS) are easy to use and available in both wired (PSTN) and wireless forms (GPRS). These terminals are equipped with clear display, backlit keypad and lateral keys making it ideal for retail environment. Our secure GPRS Terminals are enabled for 'Tap and Go' contactless payments with no PIN requirement for transactions below Rs.2,000.
Know your terminal: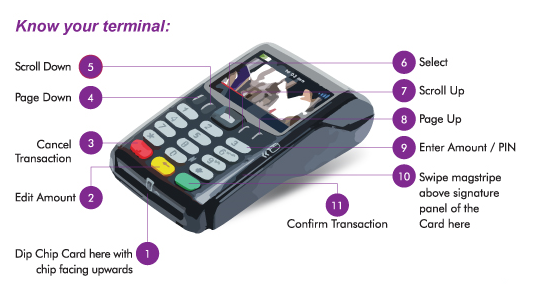 Tap & Pay Contactless Payments: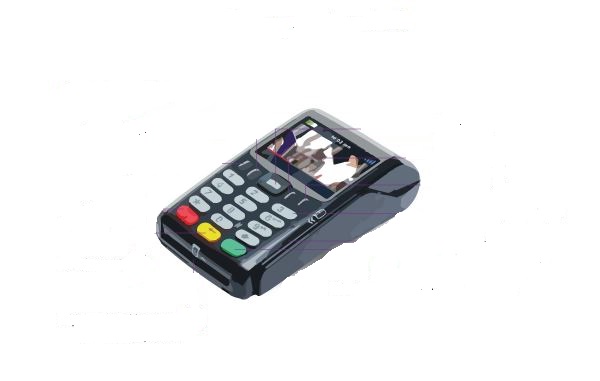 Introducing Smart POS solution, Android Swipe Machine with in-built 4G, Wifi & bluetooth connectivity options.
Powered with 5 inch touch screen display, Android Swipe Machine comes packed with a wide range of value added services to enhance the merchant user experience. Android Swipe Machine is also enabled with 'Tap and Go' contactless payments with no PIN requirement for transactions upto INR 2,000/-. All this and more, enjoy the power of Android at an affordable price.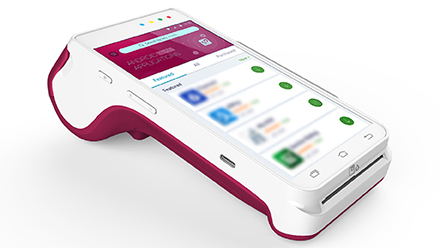 Features:
Powered by Android 6.0
In built 4G, Bluetooth and Wifi connectivity and a high capacity battery
5 inch touch screen display
In built camera with LED flashlight enabling functionality such as reading of product barcode
2 Sim slots enabled with an option to change SIM as per connectivity demand
Ultra safe security processor
Supports VAS such as EMI, BQR, Khata, etc.
QR code based payment solution enables your customer to make the payment by simply scanning the QR Code through their Axis Mobile App. This solution helps you to lower your operational costs as no physical terminal is required to accept card payments.
Mobile POS "SwipeOn" – Axis Bank's mobile POS solution will help you to accept payment through a mobile device with extremely small footprint. Swipeon solution accepts debit and credit card payments from any smart/feature phone with the support of our safe and secured technology.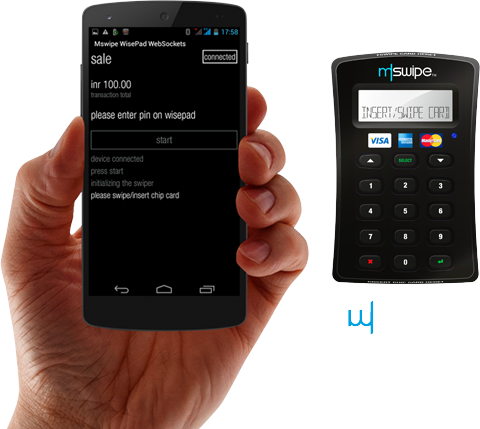 Key Features
Extremely Portable device
Enables paper less transaction through digital charge slip feature
Integrated Payment solution which can support real time reporting Swipeon is most suitable for collecting payments on the go and can be used for collecting card payments for your home delivery business.
SmartEDC – It is the most innovative, advanced, comprehensive and convenient mPOS solution combining an Android smartphone with magstripe, EMV chip & pin and NFC reading compatibility in a single device. It provides superior flexibility for merchants to use the Android platform to develop custom applications and services to reduce complexity and optimize their business.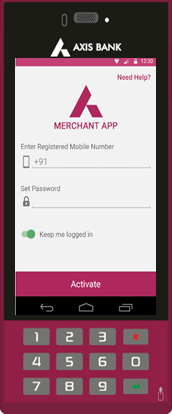 Key Features
Portable device
Full Android smartphone functionality.
4-inch WVGA display.
Optional barcode scanner.
Remote firmware update and encryption key injection.
PC based credit and debit transaction processing solution utilises your existing PC equipment to provide a perfect billing and inventory management solution integrated with payment acceptance facility for large corporates.
Accept online payments 'anytime anywhere' with our customized Online Payment Solutions. It offers an excellent uptime and fast transaction processing speed which will help you deliver a superior customer experience everytime.
Merchant benefit - With EMI facility accept high value payments from your cardholders which would lead to increased volume and footfalls for your business. No customer documentation is required at the time of conversion to EMI
Customer benefit – Convenience of opting to convert purchase in EMIs instantly at time of purchase. There is No Processing Fee, No down payment and No paper work
Below are your nearest stores
Axis Bank Merchant Mobile App is single integrated solution for merchants for accepting payments, reporting, offers notifications and much more. This App simplifies your payment acceptance experience by providing you service and support at your fingertips.
Key benefits for merchants:

Simplified payment experience.
Online payment acceptance for small merchants.
No operational hassles and reduced chargebacks.
Hassle free service and support.
Offers relevant for you.
Customized analytical reports.
Available in multiple regional languages.
Download the Axis Bank Merchant App now!
Checksum Values of last 2 versions:
Merchant_App_1.1.7 - eaadefda2b362d520c13baa52b065057
Merchant_App_1.1.8 - 6b323d6849ec5ef2f1b04779c52afd59

Google Play Store - https://play.google.com/store/apps/details?id=com.axismerchant&hl=en_IN&gl=US
Apple App Store - https://apps.apple.com/in/app/axis-merchant-app/id1498750969
Presenting Axis Bank DIGITAL DUKAAN Android Smart POS – A complete solution offering for efficiently managing and digitizing the store with in-built 4G, Wi-Fi machine packed with a wide range of value-added services at an affordable price.


Key features:
Android POS- Powered by Android 6.0 I 5-inch touch screen display.
▪ In-built camera with LED flashlight enabling functionality such as reading of product barcode
▪ 'Tap and Pay' contactless payments with no PIN requirement for transactions up to INR 5,000/-
▪ Supports Value Added Services such as EMI, BQR, Sodexo Card acceptance, Buy Now Pay Later, etc.
Digital Billing- Quick billing with multiple payment modes like Credit / Debit Cards, UPI etc.
Offers and Promotions- Send ongoing store offers and discounts to regular customers via SMS
Inventory management- No more hassle of managing stocks manually; get alerts & reminders on limited stocks along with pre-loaded catalogue
Customized real-time business reporting- Get customized reports to efficiently manage business
Digital Khatabook- Easy to manage credits and collect payments from customers
Customer management- Manage customer data at one place and offer loyalty options
Online store setup - Grow your business effortlessly by creating new channels
*Applicable for selected merchant categories only