Terms & Conditions - Privilege Current Account
Terms & Conditions

All the terms are subject to change without any prior notice
All the service charges will attract GST as applicable
For BNA convenience charges post office hours on working days to be considered as 5.00 PM to 9.30 AM and holidays to include all 2nd & 4th Saturdays, Sundays and National Holidays
Monthly charges applicable in a current account will be based on the scheme code of that account in the current month
Monthly Average Balance (MAB) or Average Quarterly Balance (AQB) is the average of day end balance maintained by the customer for the duration

Note

Please mention your Customer ID number in all the correspondence with the Bank
We would like to mention that, as a policy, Axis Bank will never ask you to disclose your Internet Banking password, login id and debit card number through emails or phone calls. Any such suspicious / spam mails, if received by you, should be forwarded to customer.service@axisbank.com
You can get in touch with us on our phone banking numbers - 1860 419 5555 and 1860 500 5555
The ATM/Debit card can be used at ATMs and retail outlets within India only.
To activate your ATM/Debit Card, swipe it once at your nearest ATM or shop with it. To enable online transactions, international usage, and contactless feature (for Business Supreme only), customize card limits, block and replace card, use Mobile or Internet banking whichever applicable to you or visit your nearest branch.
Ensure your card is used at least once in 3 months for Accident Insurance to remain active.
ATM transactions are chargeable on Business Classic Debit Card and first 5 ATM transactions after the first POS transaction are free on Business Platinum and Business Supreme Debit Card (for further details on transaction charges, please visit your nearest branch or refer to our website www.axisbank.com)
You can use your customer ID and Debit card pin to generate your online password for internet banking on www.axisbank.com (applicable to retail internet banking users only)
For further queries, visit our support section and Select Current Account from the drop-down menu to find answers related to your queries (Bank Account >> Current Account). Click here to visit the support section.
Open Access Blog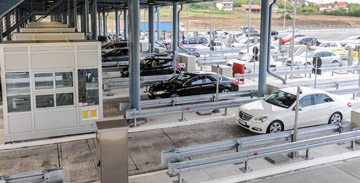 Benefits of FASTag and how to get one
Starting December 1st, all toll payments on national highways must be made via FASTag collection system, aimed to make...