Get the Full Power Digital Current Account using video KYC in 4 easy steps
The Video KYC feature brings the world of banking to your home
1

PAN and Aadhaar verification

2

Fill your personal details

3

KYC verification via video call

4

Fund your account

Availability of Video KYC Agents on business days: 9.00 AM - 8.00 PM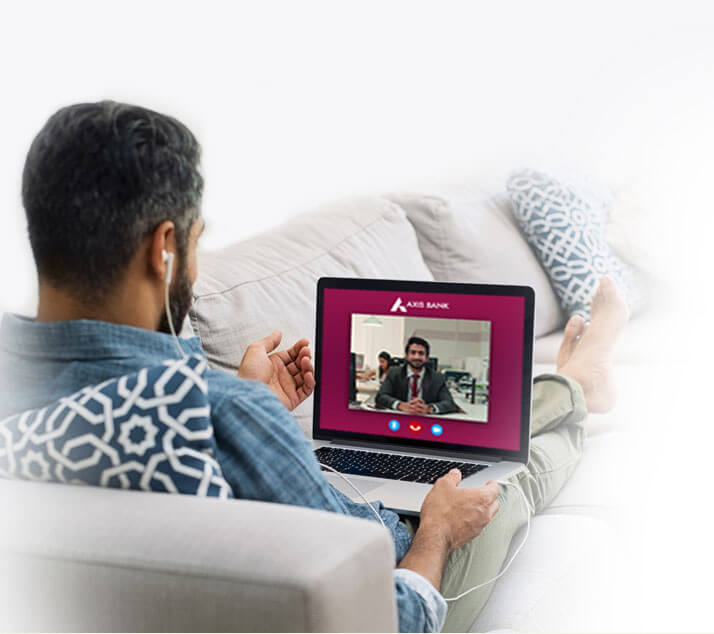 Get the Current Account that best suits your business
Our Full Power Digital Current Account for Individuals comes with the
following features:
Full Power Digital Current Account for Individuals

Contactless account opening
Zero document upload
No service charge

Avail 250+ banking services
1% cashback on E-debit card
Upto 50% cashback through Grabdeals

Open Now
Video KYC Process - Digital Current Account

Video based Current Account Opening Process at Axis Bank

Step 1: Verification

Confirm your identity by providing your PAN, Aadhaar or VID and mobile number

Step 2: Profile information

Share the required KYC details (towards self, family and address) to set up your account.

Step 3: Video KYC

Upon filling your personal details, you will be directed to the Video KYC page, wherein an Axis Bank official will initiate a video call for KYC. Please note that you will need to confirm your availability for this call and also enable video/microphone access for your device.

During the Video call, you will be asked a few questions to verify your identity. Additionally the bank's personnel, will capture a live photo (screenshot) for you as well as your PAN card details (you will need to hold up your PAN card to the camera for the same).

In case of any audio/video issues due to bandwidth constraints you shall be redirected to the Video KYC initiation screen to retry completing your Video KYC. (Please note that in this case, you may get connected to another agent)

On Video KYC failure/rejection however, a message confirming the same shall be displayed upon your screen.

Step 4: Fund your Account

Edit/confirm the name on Debit card.

And select the funding amount.
Post generating a payment summary displaying the total amount to be funded i.e. Funding amount + Debit card issuance charges (Rs. 590 inclusive of GST), choose among payment options such as net banking, debit card and UPI to fund your account.

On successful funding, you will be taken to a page displaying your Account and Virtual debit card details, including the option to set the PIN for your Virtual Debit Card. The same will also be sent to you via email in a password protected document.