Get the Digital Liberty Current Account for
Sole Proprietorship firm using video KYC in 5 easy steps
The Video KYC feature brings the world of banking to your home
1

PAN and Aadhaar verification

2

Entity KYC with GST and Udyam

3

Fill Personal & business details

4

Video KYC

5

Fund your account

Availability of Video KYC agents 7 days a week -9:00am -9:00 pm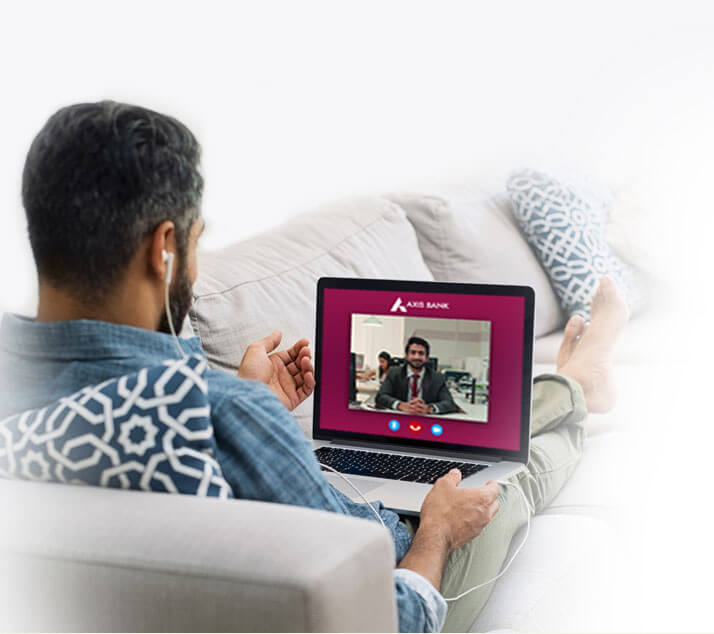 Current Account that best suits your business
Liberty Current Account for Sole Proprietor comes with
following features:
Contactless account opening with end to end journey completion in 20 minutes
Zero document upload
Avail 250+ banking services

Business Classic Debit card enriched with value-adds
Unlimited free cheque book and DD/PO issuance

Open Now
Video KYC Process - Liberty Digital Current Account

Video based Account Opening Process for Axis Bank Current Account

Step 1: Verification

Confirm your identity by providing your PAN, Aadhaar or VID and mobile number. Please note Aadhaar will be verified by the OTP on the registered mobile number.

Step 2: Entity KYC

Basis the PAN, GST's linked to the PAN will be displayed. You have to select the GST i.e. (First Entity Proof) to proceed further.

For Second Entity proof you have to provide Udyam. To fetch this, you need to enter the Udyam number.

The Udyam Registration can be done through https://udyamregistration.gov.in/Government-India/Ministry-MSME-registration.htm

Step 3: Profile information

Share the required details (towards Personal, Family, Address & Business) to proceed further.

Step 4: Video KYC

Upon submitting your profile details, you will be directed to the Video KYC page, wherein an Axis Bank official will initiate a video call for KYC. Please note that you will need to confirm your availability for this call and also enable video/microphone access for your device.

During the Video call, you will be asked a few questions to verify your Identity & Business information. Additionally the bank's personnel, will capture a live photo (screenshot) of yours as well as your PAN card (you will need to hold up your PAN card to the camera for the same) and your signature (Signature should be along with your firm's stamp or If stamp is not available then signature should be self-attested as proprietor And Entity name should be same as entity name on Stamp)

Step 5: Funding

Edit/confirm the name on Debit card and select the funding amount.

Post generating a payment summary displaying the total amount to be funded i.e. Funding amount + Debit card issuance charges (Rs. 295 inclusive of GST), choose among payment options such as net banking, debit card and UPI to fund your account.

On successful funding, you will be taken to a page displaying your Account details.